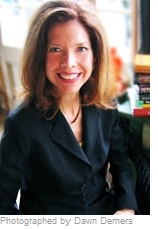 Stephanie Czachor, president of Stonehedge Financial Planning Corp
Email: Stephanie@energizedentrepreneur.com
Tel: 416-456-9841 | Fax :416-410-6685

Stephanie entered the financial services industry in 1983 after graduating from Queens University. In 1990 Stephanie began to provide comprehensive financial planning to her clients. Since then she has specialized in being a financial coach to business owners and self-employed individuals and uses financial planning software to enable the client to see the financial implications of multiple "what-if" scenarios. This approach enables the client and Stephanie to model very complex financial and estate situations.

Stephanie works along side the clients' accountants and lawyers to ensure: their partnership agreements are properly funded and up to date; they are using Individual Pension Plans and Retirement Compensation Agreements where appropriate; their disability insurance is set up tax-efficiently; they are making optimal use of life insurance as a tax-sheltering and tax reducing strategy; they have key-man insurance if appropriate; they have made optimal use of trusts; and they have an inter-generational wealth transfer plan in place.

The end result is that each self-employed individual has a coordinated financial strategy that is continuously monitored as laws and their own circumstances and values change. This gives them peace of mind on an ongoing basis.

A summary of her Financial Planning accreditations and degrees include:
Bachelor Of Arts in Economics, High Honours

Chartered Life Underwriter (C.L.U.)

Chartered Financial Consultant (CH.F.C)

Certified Financial Planner (CFP)

Registered Financial Planner (R.F.P)

Canadian Securities Course

Partners, Officers and Directors Course

Conducts and Practices Course

Member of The Institute Of Advanced Financial Planners (IAFP)
---
Carolyn Cordina
Email: Carolyn@energizedentrepreneur.com
Tel and Fax: 416-410-6685

Carolyn handles all the administrative duties in Stephanie's practice. She is available to deal with clients' administrative questions and requests quickly and accurately.

Carolyn has an accounting background with the following experience: worked with an accounting firm on the accounts of clients such as McDonalds and Mary Brown's Chicken; was a Controller for a division of Sara Lee; and was a V.P. of operations for Northern Telecom's principal dealer in Toronto.

She has worked with Stephanie since March 1999.